< Back to Research Themes
Quality of Life 2020/21 Survey
Data collection for the sixth iteration of the GCRO's flagship Quality of Life 2020/21 Survey (QoL 2020/21) is underway! With strict COVID-19 safety protocols in place, GeoSpace International fieldworkers are conducting interviews with randomly sampled respondents across Gauteng. We are interviewing 13 500 respondents, across all wards in Gauteng province. As of February 2021, over two thirds of interviews have been completed. If there are no further interruptions, we anticipate that data collection will be completed in May 2021. Results should be available by end July 2021.
More information for potential participants is available on our dedicated participant website (currently data free through Wits University).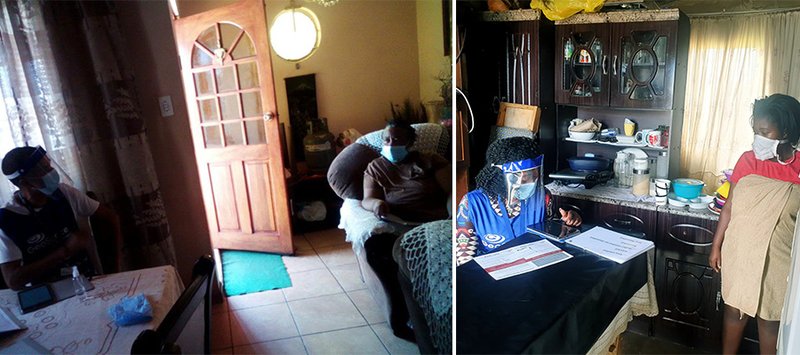 Quality of Life survey fieldwork. Photos by GeoSpace International.
The biennial Quality of Life (QoL) survey, first conducted in 2009, measures the quality of life, socio-economic circumstances, attitudes to service delivery, psycho-social attitudes, value-base and other characteristics of the GCR. It serves as a tracking and diagnostic tool, affording a rich information resource for policy makers and the public wanting to see where progress is being made, and where concerns remain.
Preparations for QoL 2020/21 started in 2019, and have been substantially informed by the Quality of Life ten year review. Funding for this iteration has been sourced from the Gauteng Provincial Government, with additional contributions from the Cities of Ekurhuleni, Johannesburg and Tshwane. Following a rigorous tendering process, GeoSpace International was appointed as the QoL 2020/21 service provider. GeoSpace previously implemented QoL III (2013/14), and has extensive experience with large-scale household-based data collection in South Africa.
The survey questionnaire is slightly shorter than in previous iterations, but we are retaining our longitudinal core. We have also incorporated modules providing deeper insights into issues of governance, social mobility, and interpersonal violence, along with questions on the impact of COVID-19 on respondents' lives. Respondents are recruited from randomly selected dwelling units across every ward in the province. Ethical clearance has been received from the University of the Witwatersrand Human Research Ethics Committee (non-medical).
Training for data collectors took place in two phases, during the weeks of September 28, 2020, and October 19, 2020. Training events took place with strict COVID-19 prevention protocols, with screening, social distancing, masks and sanitiser, and good ventilation in place.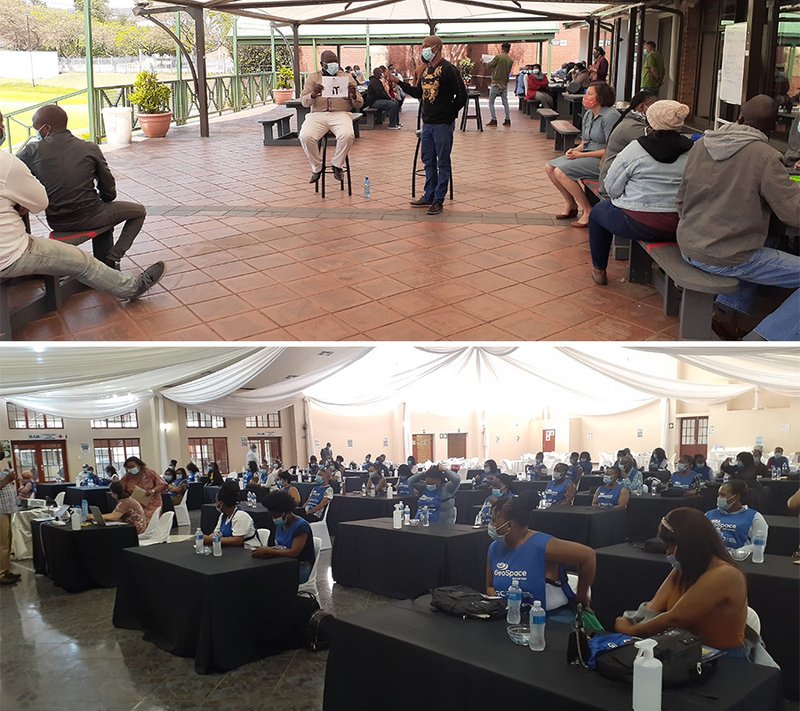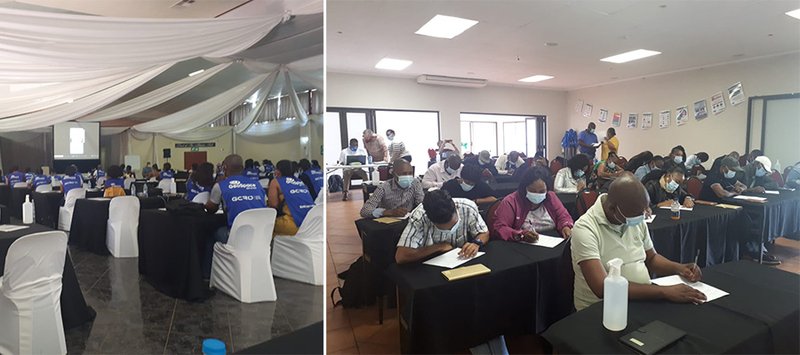 Quality of Life survey training. Photos by GCRO.
A successful field pilot took place during the weeks of October 5 and 12, with over 100 interviews fully completed. The pilot provided valuable feedback on all aspects of data collection, and allowed us to fine-tune various aspects of the project. Full-scale data collection began on 26 October 2020.
Quality of Life 10 year review
Planning and implementation of the Quality of Life 2020/21 Survey has been strongly informed by the findings of the Quality of Life 10 year review project.
Previous Quality of Life surveys
All Quality of Life survey data is made freely available under a CC BY-SA 4.0 license. Data can be accessed via the DataFirst service based at UCT, or on request from the GCRO.
Quality of Life survey V (2017/18)
Quality of Life survey IV (2015/16)
Quality of Life survey III (2013/14)
Quality of Life survey II (2011)
Quality of life survey I (2009)
Last updated: 25 February 2021.